If you appreciate unique and compelling art, you understand how a grand sculpture can have a profound impact. Whether you plan to showcase it in your luxury home or incorporate it into your garden design, selecting the right sculpture is crucial to reflect your individuality and taste.
At ARTPark, we understand the process of finding the ideal sculpture for your space. To simplify this journey, we've created a three-step guide that will lead you to the perfect piece.
Step 1: Explore Our Diverse Sculpture Range
Start your artistic journey by visiting us at Hunter Valley or the Woolloomooloo Sculpture Walk. There, you'll find a curated collection of striking sculptures, ranging from traditional to contemporary styles. Immersing yourself in the tangible beauty of our sculptures will help you connect with the artwork in a personal and meaningful way.
Step 2: Schedule a Home Consultation
Narrow down your preferences, and we'll arrange a home consultation. Our experts will visit your space, assess the location, and provide tailored advice on suitable sculptures. We'll ensure the chosen sculpture perfectly complements your surroundings, reflecting the unique charm and essence of your space.
Step 3: Visualize Your Chosen Sculpture
Before making a final decision, we'll provide a digital mock-up of your selected sculpture in its intended location. This way, you can see how it harmoniously blends with its surroundings, meeting your aesthetic expectations.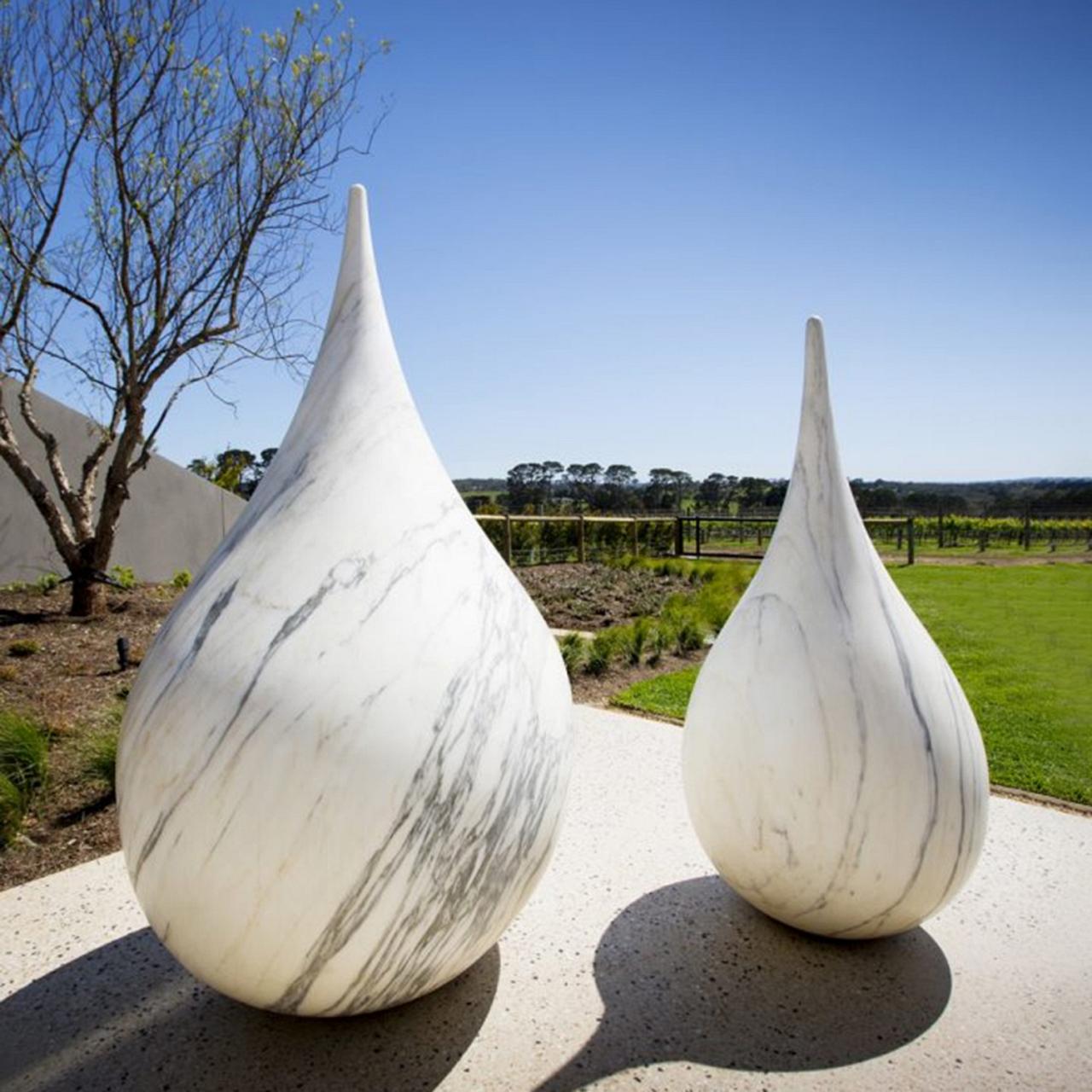 Types of Sculptures to Consider:
This form showcases the grace of continuous lines and embodies harmony and unity. They lend a soft yet intriguing aesthetic to any space. Often, these works inspire contemplation and appreciation for the perfect imperfections found in nature and life.
These sculptures are renowned for their weathered, rustic appearance, creating a striking contrast with both traditional and modern environments. The raw, enduring quality of corten steel brings an element of industrial chic, perfect for adding a touch of edginess to your space.
Bronze sculptures are timeless and enduring, offering a warm, rich hue that patinates beautifully over time. The material's versatility allows for intricate details, making it a favourite choice for both classical and contemporary designs.
For a sleek, modern touch, stainless-steel sculptures provide a mirror-like finish that reflects its surroundings, integrating seamlessly into any space. These pieces are a testament to the beauty found in simplicity and clean lines.
The epitome of elegance and sophistication, marble sculptures bring a sense of opulence to any setting. Its intricate veining and cool, smooth finish add a touch of luxury and timeless appeal.
Figurative sculptures offer a human touch, evoking emotion and telling stories through their lifelike representations. These pieces act as silent companions in your space, providing depth and narrative to your surroundings.
Outdoor Sculptures and Garden Sculptures
Designed to withstand the elements, these sculptures serve as the focal point of any exterior space. They create a visual journey, inviting viewers to engage and interact with their environment on a more intimate level.
Landmark sculptures serve as impressive conversation starters, acting as iconic symbols for your home or commercial space. These grand pieces leave a lasting impression and contribute significantly to the aesthetic identity of their locale.
Choosing the Right Sculpture for Your Space
Consider its intended location, the atmosphere you wish to create, and how it resonates with your personal style. Our mission is to help you find the perfect piece that speaks to your soul and seamlessly integrates into your environment, enhancing its overall aesthetic.
———————————————————————————–
At ARTPark, we go the extra mile in making your art acquisition a seamless and enjoyable process. We manage all aspects of your sculpture purchase, including leasing, freight, and installation, with an unwavering commitment to quality and client satisfaction. Allow us to guide you through this journey of artistic discovery and transformation.
Moreover, if you dream of a custom sculpture, our team can coordinate with talented artists to bring your vision to life. No matter the scope or scale of your dream piece, we can help you turn that dream into a tangible reality.

Embellishing your home or garden with a grand sculpture is more than just an aesthetic upgrade; it's a declaration of your taste and a reflection of your spirit. Take the first step today and discover the transformative power of grand sculptures with ARTPark. Our team is ready and eager to guide you through the process, ensuring your artistic journey is as gratifying as the final destination.